Welcome
Introducing St John's
Location
Services
Contacts
Our principles
Data privacy notice
Safeguarding


Service on 29 September:
9.30 a.m. Parish Eucharist


Collect for the Fifteenth Sunday after Trinity
(29 September)
God, who in generous mercy sent the Holy Spirit
upon your Church in the burning fire of your love:
grant that your people may be fervent
in the fellowship of the gospel
that, always abiding in you,
they may be found steadfast in faith and active in service;
through Jesus Christ your Son our Lord,
who is alive and reigns with you,
in the unity of the Holy Spirit,
one God, now and for ever.


(Website last updated on 22 September 2019:
church notices; collect; next Sunday;
pointer to notice sheet)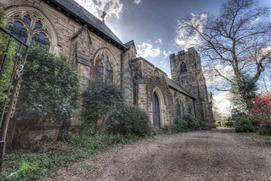 Welcome to St John the Divine, Merton
We welcome and encourage all people to join us. St John's is part of the Merton Priory Team Ministry. Whether or not you are new to the area, you are especially welcome to join us in our acts of worship and other activities and share in our Anglican tradition.

The parish of St John the Divine, High Path, takes the safeguarding and care of children and vulnerable adults very seriously. Further information about this can be found on the Safeguarding page.

Contacts: For contact details, please go to our contacts page.

Hall hire: Contact 020 8544 0018 and leave a message.
Big hall: £25 per hour; small hall: £15 per hour.
Images of the hall interiors can be found here.

The latest church notice sheet can be read here. Week by week the notice sheet has more news items on pages 3 and 4 than we can give in full here. See the Notice sheet pointers panel at the right for more about things we couldn't include below.



Merton Citizens Housing Walk, 28 September

We will be meeting at Christ Church at 2.30 p.m. on 28 September for a walk around the Colliers Wood and Mitcham area to explore empty ground and possible sites for the development of Community Land Trust homes. Please join us to look, not for all the beautiful bits, but for the grotty bits that could be regenerated. The walk should end at about 4.00 p.m.



Ceilidh!

There will be a Ceilidh at St John's in the Church Hall on Friday, 4 October at 7.00 p.m. Dancing will occur! Entrance free, with refreshments for sale: craft beers, wine and soft drinks, curry and hot dogs. Come along and bring friends and family!



Harvest Festival, 6 October

This year's Harvest Festival will be on Sunday, 6 October at 9.30 a.m. The service will be an All-Age Eucharist with collection of harvest gifts. Please bring non-perishable goods for distribution to Faith in Action (especially underwear for women (bigger sizes and dark colours) and men).



Our new Team Rector

We are delighted to welcome Revd Mark Eminson as Team Rector of Merton Priory Team Ministry. Mark will work with Revd Alison Judge (Team Vicar), Revd Belemo Alagoa (Assistant Priest), Revd Canon Duncan Swan (Associate Priest), Nick Mayhew-Smith (Reader) and all members of our congregation and many in the local community to celebrate God's grace made known to us in Jesus.

Mark is from Cheltenham in Gloucestershire. He read History at Merton College, Oxford, and, while studying for a Master's, caught the faith, being confirmed in Merton Chapel in 2003. Almost immediately he went to work as a Pastoral Assistant at St Michael and All Angels, Brighton. Thus began his connection with the Diocese of Chichester and here his vocation to the priesthood was tested and nurtured. Here he also met Elise, an English teacher, and they were married at the church in 2006. Between 2005 and 2008 Mark trained at Westcott House in Cambridge and studied theology at Trinity College. Mark served his curacy at St Swithun's, East Grinstead, then in 2012 began his first incumbency at St Thomas à Becket, Pagham. He has been very happy in Sussex and has a real heart for the parish in all its variety. Mark and Elise have four children: Grace (12), Martha (10), Beatrice and Joseph (8). They are all very excited about living and working among the people of God in Colliers Wood, South Wimbledon and Merton. .



Finding Sanctuary

Finding Sanctuary takes place at St John's every week on Mondays at 7.15 p.m. apart from bank holidays.



First Communion and Confirmation for adults and young people


First Communion and Confirmation for adults and young people (children in years 3–6), or Confirmation (adults or young people in years 7+). Preparation sessions will take place on Sunday afternoons, 3.45–5.15 p.m., at Christ Church, Christchurch Road, SW19 2NY.

The sessions will be on the following dates: 29 September, 6, 13 and 27 October, and 3 and 10 November. Admission to Holy Communion will be at the Team Service at St John's on Sunday, 24 November at 10.30 a.m. Please let Belemo or Alison know if you are interested.



Foodbank at St John's


Wimbledon Food Bank is now located at St John's. This is a temporary location while Elim's new site in Merton Hall is completed. It is a wonderful opportunity for St John's to open our doors to people who need our support. See the list of urgent needs on the Wimbledon Food Bank website.



Messy Church every month


Join us at St John's on the second Saturday of every month for crafts, songs, food, stories and celebration for children and their parents or carers – all ages welcome! From 11.00 a.m. to 12.30 p.m.



Team communications


One of our team Mission Action Plan objectives is to look at how we can improve communication across the Merton Priory Team. Ann Roberts is leading on this and wants to get views from as many people as possible about what this might look like, how we can do it, and what should be included. Let her know your thoughts by emailing her and watch this space for future idea-sharing opportunities.



Fundraising made simple


Don't forget: you can help raise funds for St John's whenever you shop online! Use Easyfundraising to shop, with over 3300 big name retailers including Argos, John Lewis, ASOS and Booking.com – and when you shop, you'll raise a free donation for us every time. It's that easy! Help support us by clicking on the Easyfundraising panel on the right or by visiting bit.ly/stjohnmerton.



Merton Citizens


Merton Citizens (part of South London Citizens) is an alliance of organisations – churches, mosques, schools, and hospitals – working together to make a difference in our borough. Merton Citizens builds the capacity of people to participate in public life, to act together for the common good, to win change, and to strengthen civic institutions in the process. Our parish is one of 15 institutions involved in work around various areas – housing, mental health, litter, and welcoming refugees. We are excited to be involved in this inspiring project, which is part of a nationwide Citizens movement that has been organising communities for several years.

For latest updates see the Merton Citizens Twitter feed.




For baptisms, weddings and funerals, contact the Vicar, Revd Alison Judge – see the contacts page.

The full rota for services in the Merton Priory Team for September 2019 is here and the rota from 6 October to 29 December 2019 can be found here.




Merton Priory PCC charity number is 1134253