Welcome
Introducing St John's
Location
Services
Contacts
Our principles


Service on 26 August:
9.30 a.m. Eucharist (Summer Liturgy)


Collect for the Thirteenth Sunday after Trinity
(26 August)

Almighty God,
who called your Church to bear witness
that you were in Christ reconciling the world to yourself:
help us to proclaim the good news of your love,
that all who hear it may be drawn to you;
through him who was lifted up on the cross,
and reigns with you in the unity of the Holy Spirit,
one God, now and for ever.


(Website last updated on 19 August 2018:
collect; next Sunday)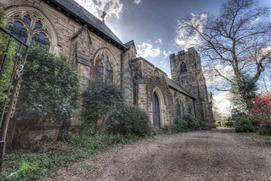 Welcome to St John the Divine, Merton
We welcome and encourage all people to join us. St John's is part of the Merton Priory Team Ministry. Whether or not you are new to the area, you are especially welcome to join us in our acts of worship and other activities and share in our Anglican tradition.

Contacts: For contact details, please go to our contacts page.

Hall hire: Contact 020 8544 0018 and leave a message.
Big hall: £25 per hour; small hall: £15 per hour.
Images of the hall interiors can be found here.

The latest church notice sheet can be read here.



Merton Citizens


Merton Citizens is going to be coordinated by Liz Holder now that Chris has left the parish. Liz will be contacting people via email so please ensure she has your email address if you want to know what is happening. You can contact her at liz@lizholder.co.uk.



Fundraising made simple


Don't forget help raise funds for St John's whenever you shop online! Use Easyfundraising to shop, with over 3300 big name retailers including Amazon, Argos, John Lewis, ASOS and Booking.com – and when you shop, you'll raise a free donation for us every time. It's that easy! Help support us by clicking on the Easyfundraising panel on the right or by visiting bit.ly/stjohnmerton .



Repairs and maintenance


We are having to have a lot of work done on our building at present. We have discovered dry rot in the vestry and this will cost approximately £7000 to treat. We are also having our lighting repaired. In terms of maintenance, we are having a screen fixed to protect the Lady Chapel window, which will cost approximately £700. If you feel you can help with these works by giving an extra donation we would be very grateful.



First Communion and Confirmation for young people


A course will start on Sunday, 30 September for those wishing to be admitted to Communion (children Yrs 3–6) or Confirmation for young people (Yr7+). Please let Alison or Belemo know if you are interested in joining any of these groups.



Confirmation Course


If you are an adult interested in exploring your faith more or being Confirmed there will be a course starting in September. Please speak to Alison, Belemo or Nick or one of our churchwardens to find out more details.



Focus points:
(For details, click on the underlined links.)

• Notice Boards and our Great War Honour Boards. Sales from the table in future will go towards money to repair/restore our roll of honour boards in time for the 100th anniversary of the end of the Great War.

• Wimbledon Food Bank donation points: there are now convenient donation points in Sainsbury's Merton and Waitrose in Alexandra Road. See the list of urgent needs on the Wimbledon Food Bank website.

• Merton Citizens now has a Twitter feed.




For baptisms, weddings and funerals, contact the Vicar, Revd Alison Judge – see the contacts page.

The full rota for services in the Merton Priory Team up to the end of August can be found here, and for September to the end of 2018 here.




Merton Priory PCC charity number is 1134253