Welcome
Introducing St John's
Our location
Contact us
Our principles
Data privacy notice
Safeguarding


ANNOUNCEMENT:
From 24 March 2020 all churches
in the Southwark Diocese are closed
and services are suspended
until further notice.


Collect for the Fifth Sunday of Lent
(29 March)
Most merciful God,
who by the death and resurrection of your Son Jesus Christ
delivered and saved the world:
grant that by faith in him who suffered on the cross
we may triumph in the power of his victory;
through Jesus Christ your Son our Lord,
who is alive and reigns with you,
in the unity of the Holy Spirit,
one God, now and for ever.

Copyright © The Archbishops' Council 2000


(Website last updated on 28 March)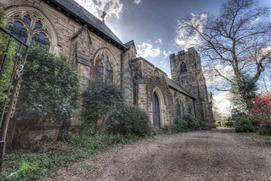 While all the churches in the Merton Priory Team Ministry are closed during the Coronavirus pandemic, the clergy will still be active in supporting and providing pastoral care. This website will be updated several times each week with prayers and other materials for your use. The weekly notice sheet will continue to be uploaded; please continue to read it.
THIS WEEK
Prayers and Thought for the Week

Click here for our prayers for the week.
In the first of our series Thought for the Week, Nicky Morgan writes of Wilderness Times.
(24 March 2020)

Sunday Service for 29 March led by Alison

Join us in worship and prayer on Sunday with this YouTube video of Alison leading the Morning Service. You can follow the prayers with this service sheet by clicking here, and the readings by clicking here.
(27 March 2020)

THROUGH THE WEEK
Worship at home

When it is not possible for people to worship together, the various Church of England apps for Daily Prayer and Reflections are a wonderful resource and unite us in prayer.
Please also download these two simple acts of worship for use through the week.
(18 March 2020)

Spiritual Communion

The term 'Spiritual Communion' describes the means of grace by which a person, prevented for some serious reason from sharing in a celebration of the Eucharist, nonetheless shares in the communion of Jesus Christ. You are invited to join in these prayers as an opportunity to give thanks for your communion with him while unable to be present at the Eucharist.
(21 March 2020)

CHURCH RESPONSE TO CORONAVIRUS
Encouragement from Archbishops and Bishops

On 27 March the Archbishops and Bishops wrote to give further support and encouragement during Passiontide, and to detail resources available online. You can read their letter here.
(28 March 2020)
Letter from Archbishops and Bishops

On 24 March the Archbishops and Bishops announced that all churches in the Church of England would be closed not only for public worship but also for private prayer. You can read their letter here.
(24 March 2020)

Letter from Bishop Christopher

On 24 March Bishop Christopher wrote confirming the closure of churches and emphasizing the importance of continuing in prayer and private devotions, and joining him in praying the Lord's Prayer every day at 1 p.m. and 7 p.m. You can read his letter here.
(24 March 2020)

PREVIOUS ARTICLES
Video from the Team Rector

Revd Mark Eminson, our Team Rector, recorded this brief Mothering Sunday video to welcome you to the resources that will be made available via this website and those of our sister churches in the Merton Priory Team over the coming weeks. A PDF of the text is here.
(21 March 2020)

Prayers for Mothering Sunday

Mark Eminson recorded this audio file in which he and Richard Blades, churchwarden at Holy Trinity, conducted a simple service of morning prayers and Spiritual Communion. Please feel free to use this in your devotions on Mothering Sunday and afterwards.
(22 March 2020)

Archbishop Justin's national broadcast on Mothering Sunday

On the morning of Mothering Sunday the Archbishop of Canterbury, Justin Welby, conducted a service from Lambeth Palace. You can listen to it on the Church of England website or on BBC Sounds.
(22 March 2020)

Letter from the Team Rector, 18 March 2020

In response to directions from the Archbishops of Canterbury and York, Revd Mark Eminson, our Team Rector, wrote a letter to everyone in the Merton Priory Team Parish outlining how this might affect us all and encouraging us to continue as a community of support, friendship and hope. You can read his letter here.
(18 March 2020)


Merton Priory PCC charity number is 1134253



Prayer for today
Loving God,
source of healing and comfort,
fill us with your grace,
that the sick may be made whole,
that those who care for us may be strengthened,
that the anxious may be calmed,
and those most vulnerable be protected
in the power of the Spirit
in the faith of Jesus Christ our Lord.