MENU
• Welcome
• Introducing St John's
• Our location
• Our services
• Contact us
• Our principles
• Data privacy notice
• Our mission statement
• Annual reports for 2021
• Safeguarding
• Looking back



(Website last updated on 24 June 2022)



LATEST SUNDAY SERVICE ONLINE
29 May (Seventh Sunday of Easter): video; collect and readings



CHURCH SERVICES IN THE TEAM
Midweek
Tuesday 8.00 a.m. Morning Prayer, St John's
Tuesday 5.00 p.m. Evening Prayer, St John's
Wednesday 8.00 a.m. Morning Prayer, St John's
Wednesday 5.00 p.m. Evening Prayer, Holy Trinity
Thursday 8.00 a.m. Morning Prayer, St John's
Thursday 12.15 p.m. Eucharist, Holy Trinity
Thursday 5.00 p.m. Evening Prayer, Christ Church
Saturday
9.00 a.m. Eucharist, Christ Church
Sunday
9.30 a.m. Parish Eucharist, St John's
10.00 a.m. Parish Eucharist, Holy Trinity
11.15 a.m. Parish Eucharist, Christ Church
6.00 p.m. Simple Eucharist, St John's



Collect for the First Sunday after Trinity
(19 June)

O God,
the strength of all those who put their trust in you,
mercifully accept our prayers
and, because through the weakness of our mortal nature
we can do no good thing without you,
grant us the help of your grace,
that in the keeping of your commandments
we may please you both in will and deed;
through Jesus Christ your Son our Lord,
who is alive and reigns with you,
in the unity of the Holy Spirit,
one God, now and for ever.

Copyright © The Archbishops' Council 2000


TEAM MINISTRY ROTA
The Team Ministry rota for June to August 2022 is available here.

If you find a broken link or just have a comment on the site, by all means get in touch.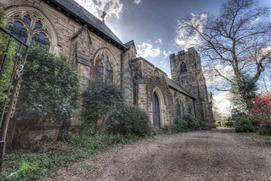 We welcome and encourage all people to worship God with us. St John's is part of the Merton Priory Team Ministry. Whether or not you are new to the area, you are most welcome to join us in our acts of worship and share in our Anglican tradition.

Church notice sheet
Click on this link to read the latest church notice sheet. If you would like to receive the notice sheet regularly as a newsletter, you can sign up using the subscription form below.
(24 June 2022)
Children's Society boxes
Thank you to everyone who donates to the Children's Society via House Boxes. Please could you bring your box to church and give it to Jean Parker for the donations to be counted and sent to the Society.
(21 May 2022)

Merton Priory Youth Group
Our new Youth Group has launched! It will run every week in term time at St John's from 7 p.m. to 8.30 p.m. It's open to all those in school years 5–9. Table tennis, games and activities, pizza! All youth must arrive for their first time with a parent or guardian for necessary safeguarding procedures.
(12 June 2022)

Simon's ordination
We pray for our curate Revd Simon Asquith as he prepares for his ordination to the priesthood on Saturday 2 July. He will preside at the Eucharist for the first time in each church as follows: Sunday 3 July 10 a.m. at Holy Trinity, Sunday 10 July 11.15 a.m. at Christ Church and a big celebration on Friday 22 July 6.00 p.m. at St John's. If you would like to contribute towards a new stole for Simon, please do so via the wardens or clergy.
(12 June 2022)

Christian Care
Christian Care are looking to expand their team of volunteers as the demand for their services is greater than ever. They are particularly looking to recruit a Deputy CARE Coordinator and a Children's Activities Coordinator – please see their website for further information about all the volunteering opportunities.
(21 May 2022)

Election of Church Wardens, Deanery Synod Representatives and PCC/DCC Members
The following members were elected at the annual district meeting of St John's:
Church Wardens: Ann Roberts, one vacancy.
Deanery Synod: Eva Parker, one vacancy.
PCC members: Ann Newson, one vacancy.
DCC member: Arlene Rock.
(29 May 2022)
There is no longer a legal requirement to wear a face covering. The government suggests you continue to wear one in crowded or enclosed spaces where you may come into contact with other people you do not normally meet.

Receiving Communion. Following the clergy's attendance of the Chrism Eucharist at Southwark Cathedral, we were reminded that it is neither Diocesan nor Church of England guidance to intinct (dip) the wafer in the wine. Do please either receive directly from the chalice or continue to receive in one kind. And do also remember we always have both gluten-free wafers and non-alcoholic wine available.

The Parish Eucharist on 29 May (Seventh Sunday of Easter) at St John's led by Mark can be viewed as a video. You are invited to take part by following along with the collect and readings.

Service on 17 July (Fifth Sunday after Trinity)
The Parish Eucharist at Christ Church will be led by Alison and will be uploaded to YouTube later in the day.

Services from previous weeks are on the Merton Priory Parish YouTube channel and listed on the 'Looking back' page on the Team website.
(19 June 2022)
Holy Trinity is open for private prayer on Mondays from 3.00 to 6.00 p.m.
(14 November 2021)
When it isn't possible to join with the local church,

this outline

is designed to help you have a short time of worship as a household.

You are also invited to follow the Royal School of Church Music's

Hymn of the Day, and Sunday Self-Service

, a simple act of worship with music, readings and prayers which will change weekly.

(29 March 2020)

The term 'Spiritual Communion' describes the means of grace by which a person, prevented for some serious reason from sharing in a celebration of the Eucharist, nonetheless shares in the communion of Jesus Christ. You are invited to join in

these prayers

as an opportunity to give thanks for your communion with him while unable to be present at the Eucharist.

(3 May 2020)
Visit our archival resource on the Team website to examine and use items from the weeks since 22 March 2020.


Merton Priory PCC charity number is 1134253

Prayer of Dedication,
from the Silver Jubilee Year
Almighty God, the fountain of all goodness,
bless our Sovereign Lady, Queen Elizabeth,
and all who are in authority under her;
that they may order all things in wisdom and equity, righteousness and peace,
to the honour and glory of your name
and the good of your Church and people;
through Jesus Christ your Son our Lord,
who is alive and reigns with you,
in the unity of the Holy Spirit,
one God, now and for ever.
Amen.
MISSION STATEMENT
The Merton Priory Team Ministry is committed to promoting the Gospel of Jesus Christ according to the doctrines and practices of the Church of England. We are guided by our mission statement, agreed in 2011:

In Merton Priory Team Ministry we aim to be a community
Faithful to God
Sharing with those in need
Caring for one another