Welcome
Introducing St John's
Location
Services
Contacts
Our principles


Service on 29 April:
10.30 a.m. Team Eucharist and
Annual Parish Church Meeting
at
Christ Church
– no service at
St John's
Collect for the Fifth Sunday of Easter

Almighty God,
who through your only-begotten Son Jesus Christ
have overcome death and opened to us the gate of everlasting life:
grant that, as by your grace going before us
you put into our minds good desires,
so by your continual help
we may bring them to good effect;
through Jesus Christ our risen Lord,
who is alive and reigns with you,
in the unity of the Holy Spirit,
one God, now and for ever.


(Website last updated on 22 April 2018:
collect; next Sunday)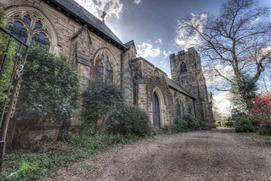 Welcome to St John the Divine, Merton
Christ is risen! Alleluia!
We welcome and encourage all people to join us. St John's is part of the Merton Priory Team Ministry. Whether or not you are new to the area, you are especially welcome to join us in our acts of worship and other activities and share in our Anglican tradition.

Contacts: For contact details, please go to our contacts page.

Hall hire: Contact 020 8544 0018 and leave a message.
Big hall: £25 per hour; small hall: £15 per hour.
Images of the hall interiors can be found here.

The latest church notice sheet can be read here.



Our new assistant priest, Revd Duncan Swan


Revd Duncan Swan, who is Deaneries Development Adviser for our diocese, will be licensed as an assistant priest in our parish TONIGHT at 7 p.m. at Holy Trinity. The Archdeacon of Lambeth, Ven. Simon Gates, will be joining us to license Duncan.



Annual Parish Church Meeting on 29 April at Christ Church


The Eucharist on 29 April will be a Team Service at Christ Church and will include the Annual Parish Church Meeting, to which all congregations of the three churches in the Merton Priory Team are warmly invited. The service will start at 10.30 a.m. There will therefore be no morning service at St John's on 29 April.



Revd Chris Palmer


Chris will be leaving our parish in July to become Canon Chancellor of Exeter Cathedral. Chris's last service will be on 8 July at 3 p.m. and his installation in Exeter will be on 5 August at 3 p.m.



Focus points:
(For details, click on the underlined links.)

• Children's Society Boxes: For those of you that have Children's Society Boxes at St John's can you please bring them in for counting as soon as possible. If you do not have a box and would like one please contact David Tanner.

• Wimbledon Food Bank donation points: there are now convenient donation points in Sainsbury's Merton and Waitrose in Alexandra Road. See the list of urgent needs on the Wimbledon Food Bank website.

• Merton Citizens now has a Twitter feed




For baptisms, weddings and funerals, contact the Vicar, Revd Alison Judge – see the contacts page.

The full rota for services in the Merton Priory Team can be found here.




Merton Priory PCC charity number is 1134253



St John's Diary
(click on the image)