Welcome
Inspiration and comfort
Looking back
Introducing St John's
Our location
Contact us
Our principles
Data privacy notice
Annual report 2019
Safeguarding


ENDING OF CHURCH CLOSURE
Churches in the Southwark Diocese
are now opening for private prayer
and public worship.


Collect for the Fourth Sunday after Trinity
(5 July)
O God, the protector of all who trust in you,
without whom nothing is strong, nothing is holy:
increase and multiply upon us your mercy;
that with you as our ruler and guide
we may so pass through things temporal
that we lose not our hold on things eternal;
grant this, heavenly Father,
for our Lord Jesus Christ's sake,
who is alive and reigns with you,
in the unity of the Holy Spirit,
one God, now and for ever.

Copyright © The Archbishops' Council 2000


(Website last updated on 4 July 2020)



If you find a broken link or just have a comment on the site, by all means get in touch.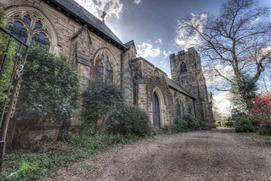 Church notice sheet: The latest church notice sheet can be read here.
(4 July 2020)

Having prepared our three churches safely for private prayer, each church is celebrating the eucharist on Sunday, at the following times:

• 10.00 a.m. at Holy Trinity
• 10.00 a.m. at St John's (for those who are still shielding) – PLEASE NOTE THE TIME
• 11.15 a.m. at Christ Church


If you feel ready to come, you will be very welcome, but there are a few things you need to know in advance. If you are shielding, please do not feel any pressure to return just yet, although we are offering St John's as an option for those who are shielding and wish to return. Of course, if you have symptoms of COVID-19, you must not attend.

For those who plan to come, please can you aim to arrive up to half an hour before the service begins. This is because we will have 2-metre-spaced queueing and you will need to sanitise your hands before each individual or family unit is taken to their seats. We will also be making a note of everyone who attends and a contact telephone number, in order to assist with NHS Test and Trace. These details will be kept securely and destroyed after 21 days. Once you are in your seat, there will be no movement, except for the carefully-organised receiving of communion (and toilet access remains for the churches).

For this Sunday, the following limits will apply:

• Holy Trinity 45 people;
• Christ Church 36 people;
• St John's 20 people.


We will consider a booking system for future Sundays if it seems necessary.

The service from Holy Trinity will be recorded and added to our Merton Priory Parish YouTube channel, and may be followed along with the order of service and the readings. We hope to have Facebook live-streaming up and running at the earliest opportunity, rotating around the churches.

Let us all hold each other in prayer as some return to church, while others still wait, asking that God will protect and guide us in the days to come.

Here also is a Pastoral Letter from the Bishops of Southwark Diocese.

Whilst we are looking forward to seeing each and every one of you, there is no rush. St John's or Christ Church or Holy Trinity will be open when you feel ready to come; your health and safety are our first concern. If you have any specific queries or worries please do contact Mark, Alison or Belemo.

May God's love and peace be with you and those you love.
(4 July 2020)
All of the churches in the Merton Priory Team are now open for private prayer at the following times:


• Monday 3.00–7.00 p.m. Holy Trinity (3.00–4.00 p.m. priority for those shielding)
• Tuesday 8.00–10.00 a.m. St John the Divine (9.00–10.00 a.m. priority for those shielding)
• Wednesday 4.00–7.00 p.m. Christ Church (4.00–5.00 p.m. priority for those shielding)
• Thursday 11.00 a.m.–3.00 p.m. Holy Trinity (11.00 a.m.–12.00 noon priority for those shielding)
• Friday 4 p.m. – 6 p.m. St John the Divine (5.00–6.00 p.m. priority for those shielding)
• Saturday 9 a.m. – 12 noon Christ Church (9.00–10.00 a.m. priority for those shielding)

Church buildings open for public worship. From 5 July 2020 we will be opening our churches for public worship. The form of service will be very different from what we are used to. There will be a one-way system in place, with hand sanitisers available on the way into church and as you leave. We are planning to celebrate Holy Communion and are looking at the safest way to do this. During the service we will maintain social distance from each other and there will be no Diddy Disciples or Junior Church for children. There will be no coffee after church. Owing to the need for social distancing, numbers will be limited and much as we regret the possibility if we have reached our stated number we may need to turn people away; we hope that you will be understanding. Each church in the Team will be having a service and at St John's special provision will be made for those who are shielding. We therefore need to ask St John's people who are not shielding to show hospitality to those who are more vulnerable. If you are a member of St John's who is not shielding, please go to Holy Trinity or Christ Church so that those shielding can go to St John's.

• 10.00 a.m. Holy Trinity
• 10.00 a.m. at St John's (for those who are still shielding) – PLEASE NOTE THE TIME
• 11.15 a.m. Christ Church

(1 July 2020)
Although we don't yet know when we can meet together again as normal in our buildings, we can ponder and potentially share what is giving us comfort and providing us with inspiration. Potential ideas are: reflections of what lockdown is like and how you are spending your time, learning a piece of music, learning poetry to recite, creating art to exhibit, or an idea of your own. Feel free to send in any ideas to us. Head over here to find out more.
(13 June 2020)
Worship at Home

When it isn't possible to join with the local church, this outline is designed to help you have a short time of worship as a household.
You are also invited to follow the Royal School of Church Music's Hymn of the Day, and Sunday Self-Service, a simple act of worship with music, readings and prayers which will change weekly.
(29 March 2020)

Spiritual Communion

The term 'Spiritual Communion' describes the means of grace by which a person, prevented for some serious reason from sharing in a celebration of the Eucharist, nonetheless shares in the communion of Jesus Christ. You are invited to join in these prayers as an opportunity to give thanks for your communion with him while unable to be present at the Eucharist.
(3 May 2020)
Visit our archival resource on the Team website to examine and use items from the weeks that our church buildings were closed.
(4 July 2020)


Merton Priory PCC charity number is 1134253



Prayer for today
Loving God,
source of healing and comfort,
fill us with your grace,
that the sick may be made whole,
that those who care for us may be strengthened,
that the anxious may be calmed,
and those most vulnerable be protected
in the power of the Spirit
in the faith of Jesus Christ our Lord.