MENU
• Welcome
• Inspiration and comfort
• Introducing St John's
• Our location
• Our services
• Contact us
• Our principles
• Data privacy notice
• Our mission statement
• Annual reports for 2020
• Safeguarding
• Looking back



(Website last updated on 26 September 2021)




CHURCH SERVICES
Midweek
Tuesday 8.00 a.m. Morning Prayer, St John's
Tuesday 5.00 p.m. Evening Prayer, St John's
Wednesday 8.00 a.m. Morning Prayer, St John's
Wednesday 5.00 p.m. Evening Prayer, Holy Trinity
Thursday 8.00 a.m. Morning Prayer, St John's
Thursday 12.15 p.m. Eucharist, Holy Trinity
Saturday
9.00 a.m. Eucharist, Christ Church
Sunday
9.30 a.m. Parish Eucharist, St John's
10.00 a.m. Parish Eucharist, Holy Trinity
11.15 a.m. Parish Eucharist, Christ Church
6.00 p.m. Simple Eucharist, St John's



PRIVATE PRAYER IN CHURCH
Monday 3.00–6.00 p.m. Holy Trinity
Wednesday 5.00–6.00 p.m. Christ Church


Collect for the Seventeenth Sunday after Trinity
(26 September)

Almighty God,
you have made us for yourself,
and our hearts are restless till they find their rest in you:
pour your love into our hearts and draw us to yourself,
and so bring us at last to your heavenly city
where we shall see you face to face;
through Jesus Christ your Son our Lord,
who is alive and reigns with you,
in the unity of the Holy Spirit,
one God, now and for ever.

Copyright © The Archbishops' Council 2000


If you find a broken link or just have a comment on the site, by all means get in touch.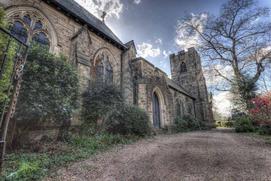 Welcome to St John the Divine, Merton
We welcome and encourage all people to worship God with us. St John's is part of the Merton Priory Team Ministry. Whether or not you are new to the area, you are most welcome to join us in our acts of worship and share in our Anglican tradition.

Church notice sheet
Click on this link to read the latest church notice sheet. If you would like to receive the notice sheet regularly as a newsletter, you can sign up using the subscription form below.
(23 September 2021)

Services at St John's and Christ Church during October
(The regular 6.00 p.m. services at St John's continue as usual up to and including 24 October.)
3 10.30 a.m. Joint Service at St John's (Harvest and Patronal: please bring harvest gifts of non-perishable foods for the Wimbledon Foodbank) (no service at Christ Church)
10 10.30 a.m. Joint Service at Christ Church* (no service at St John's)
17 10.30 a.m. Joint Service at Christ Church (no service at St John's)
24 9.30 a.m. Morning Prayer at St John's* led by Revd Simon Asquith
11.15 a.m. Parish Eucharist at Christ Church
31 Normal service times resume: 9.30 a.m. at St John's, 11.15 a.m. at Christ Church*. NOTE: Clocks go back!
* Service will be filmed and made available on the Merton Priory Parish YouTube channel
(26 September 2021)

Church hall
If you wish to hire St John's hall please email sjccparishoffice@yahoo.co.uk with details. The charge is £25 per hour.
(18 April 2021)


Headings on this page:
WORSHIP IN CHURCH AND ONLINE | PRIVATE PRAYER IN CHURCH | WORSHIP AT HOME | LOOKING BACK | SUBSCRIBE TO OUR WEEKLY NEWSLETTER




Now that we are in step four, official restrictions are lifted and so all are welcome to attend. We will be maintaining a range of habits and moving gradually on the reintroduction of other practices.

Do speak with the clergy or churchwardens if you have any specific queries or comments. God bless and keep us all.

The Parish Eucharist for 26 September (Seventeenth Sunday after Trinity) at Holy Trinity led by Mark can be viewed as a YouTube video. You are invited to take part by following along with the order of service.

Service for 3 October (Harvest Festival)
The All Age Eucharist at Holy Trinity will be led by Mark and will be uploaded to YouTube later in the day.

Services from previous weeks are on the Merton Priory Parish YouTube channel and listed on the 'Looking back' page on the Team website.
(26 September 2021)

Holy Trinity remains open for private prayer, so if any church member or someone from the wider community wishes to make use of that, these are the times of opening: Monday 3.00–6.00 p.m. and Thursday 11.00 a.m.–1.00 p.m.

We pray for our NHS, for all afflicted with COVID, for those who have died, for all who grieve, for the roll-out of the vaccine and for one another: O God, make speed to save us; O Lord, make haste to help us.
(26 September 2021)

When it isn't possible to join with the local church,

this outline

is designed to help you have a short time of worship as a household.

You are also invited to follow the Royal School of Church Music's

Hymn of the Day, and Sunday Self-Service

, a simple act of worship with music, readings and prayers which will change weekly.

(29 March 2020)

The term 'Spiritual Communion' describes the means of grace by which a person, prevented for some serious reason from sharing in a celebration of the Eucharist, nonetheless shares in the communion of Jesus Christ. You are invited to join in

these prayers

as an opportunity to give thanks for your communion with him while unable to be present at the Eucharist.

(3 May 2020)

Visit our archival resource on the Team website to examine and use items from the weeks since Mothering Sunday (22 March) 2020.
(19 September 2021)

SUBSCRIBE TO OUR WEEKLY NEWSLETTER
(For reassurance on how we protect your personal data, see our Data privacy notice.)

Merton Priory PCC charity number is 1134253

Prayer for all times
Loving God,
source of healing and comfort,
fill us with your grace,
that the sick may be made whole,
that those who care for us may be strengthened,
that the anxious may be calmed,
and those most vulnerable be protected
in the power of the Spirit
in the faith of Jesus Christ our Lord.
MISSION STATEMENT
The Merton Priory Team Ministry is committed to promoting the Gospel of Jesus Christ according to the doctrines and practices of the Church of England. We are guided by our mission statement, agreed in 2011:

In Merton Priory Team Ministry we aim to be a community
Faithful to God
Sharing with those in need
Caring for one another