MENU
• Welcome
• Inspiration and comfort
• Introducing St John's
• Our location
• Our services
• Contact us
• Our principles
• Data privacy notice
• Our mission statement
• Annual reports for 2020
• Safeguarding
• Looking back



(Website last updated on 25 July 2021)



LATEST SUNDAY SERVICE ONLINE
Eighth Sunday after Trinity (James the Apostle), 25 July: video; order of service

CHURCH SERVICES
Midweek
Tuesday 8.00 a.m. Morning Prayer, St John's
Wednesday 8.00 a.m. Morning Prayer, St John's
Thursday 8.00 a.m. Morning Prayer, St John's
Thursday 12.15 p.m. Eucharist, Holy Trinity
Saturday
9.00 a.m. Eucharist, Christ Church
Sunday
Services on 1 and 8 August
will be Team Services at 10.30 a.m.;
see notices for details.



PRIVATE PRAYER IN CHURCH
Monday 3.00–6.00 p.m. Holy Trinity
Wednesday 5.00–6.00 p.m. Christ Church
Thursday 11.00 a.m.–2.00 p.m. Holy Trinity
Saturday 9.00 –10.00 a.m. Christ Church


Collect for James the Apostle
(25 July)
Merciful God,
whose holy apostle Saint James,
leaving his father and all that he had,
was obedient to the calling of your Son Jesus Christ
and followed him even to death:
help us, forsaking the false attractions of the world,
to be ready at all times to answer your call without delay;
through Jesus Christ your Son our Lord,
who is alive and reigns with you,
in the unity of the Holy Spirit,
one God, now and for ever.

Copyright © The Archbishops' Council 2000


If you find a broken link or just have a comment on the site, by all means get in touch.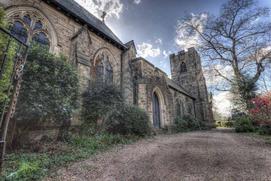 Welcome to St John the Divine, Merton
We welcome and encourage all people to worship God with us. St John's is part of the Merton Priory Team Ministry. Whether or not you are new to the area, you are most welcome to join us in our acts of worship and share in our Anglican tradition.

Church notice sheet
Click on this link to read the church notice sheet for the Sundays up to 8 August. If you would like to receive the notice sheet regularly as a newsletter, you can sign up using the subscription form below.
(21 July 2021)

Team Service, 1 August at 10.30 a.m.
Next Sunday morning's Eucharist will be a Team Service at St John's – please note the time: 10.30 a.m.
(25 July 2021)

Farewell to Revd Belemo Alagoa
it was announced in the churches on Sunday 20 June that Belemo has been appointed Associate Vicar in the Furzedown Team Ministry, with special responsibility for St Paul's Streatham (Furzedown), subject to the legal preliminaries being completed. Belemo's last day in the Parish will be Sunday 8 August and it is hoped her licensing will be on 5 September.
(3 July 2021)

Church hall
If you wish to hire St John's hall please email sjccparishoffice@yahoo.co.uk with details. The charge is £25 per hour.
(18 April 2021)


Headings on this page:
WORSHIP IN CHURCH AND ONLINE | PRAYER RESOURCES IN LOCKDOWN | PRIVATE PRAYER IN CHURCH | ANTI-RACISM TASKFORCE REPORT | WORSHIP AT HOME | LOOKING BACK | SUBSCRIBE TO OUR WEEKLY NEWSLETTER




Now that we are in step four, official restrictions are lifted and so all are welcome to attend. We will be maintaining a range of habits and moving gradually on the reintroduction of other practices. Therefore, people will continue to be encouraged to sign in and to use sanitiser and to respect others' space. Face masks are not compulsory, but do consider using them. We are beginning to sing again, but only a part of the eucharist and only two hymns. We would love to hear people's views about how soon you would like the option of sharing the peace and receiving the chalice, but neither will happen during the three Team Services in July and August. Do speak with the clergy or churchwardens if you have any specific queries or comments. God bless and keep us all.

The Parish Eucharist for 25 July (Eighth Sunday after Trinity; James the Apostle) at Christ Church led by Mark can be viewed as a YouTube video. You are invited to take part by following along with the order of service.

Team Service for 1 August (Ninth Sunday after Trinity)
The Parish Eucharist at St John's will be led by Belemo and will be uploaded to YouTube later in the day.

Services from previous weeks are on the Merton Priory Parish YouTube channel and listed on the 'Looking back' page on the Team website.
(25 July 2021)

The Archbishops have written to the nation to invite people to join in reflection and prayer each day from 1 February at 6 p.m. The Church of England website also has resources (such as this Prayer for the Nation booklet; there are others for those who wish to persevere, for example weekly prayer for notices/e-notices). Southwark Cathedral has a range of daily online worship (listed on this information sheet, which includes links to their website). For those who prefer the telephone, there is the Daily Hope phoneline (0800 804 8044), which offers hymns, reflections and prayers.

You may remember from the first lockdown the Inspiration and Comfort section on the Team website; do look at it again and perhaps you will feel moved to contribute something.

If you would like to make a prayer request or have a conversation, please do contact the clergy.
(7 February 2021)

The churches remain open for private prayer, so if any church member or someone from the wider community wishes to make use of that, these are the times of opening:

Holy Trinity: Monday 3.00–6.00 p.m., and Thursday 11.00 a.m.–2.00 p.m.
Christ Church: Wednesday 5.00–6.00 p.m., and Saturday 9.00–10.00 a.m.

Please refer to the guidance for those attending church and the risk assessment. Please wear a face covering in church (unless exempt), for the safety of all.

We pray for our NHS, for all afflicted with COVID, for those who have died, for all who grieve, for the roll-out of the vaccine and for one another: O God, make speed to save us; O Lord, make haste to help us.
(11 March 2021)

On Stephen Lawrence Day, 22 April, the Church of England released the report on racism with a statement from the archbishops. The clergy commend them to you and urge all concerned to read them.
(23 April 2021)

When it isn't possible to join with the local church,

this outline

is designed to help you have a short time of worship as a household.

You are also invited to follow the Royal School of Church Music's

Hymn of the Day, and Sunday Self-Service

, a simple act of worship with music, readings and prayers which will change weekly.

(29 March 2020)

The term 'Spiritual Communion' describes the means of grace by which a person, prevented for some serious reason from sharing in a celebration of the Eucharist, nonetheless shares in the communion of Jesus Christ. You are invited to join in

these prayers

as an opportunity to give thanks for your communion with him while unable to be present at the Eucharist.

(3 May 2020)

Visit our archival resource on the Team website to examine and use items from the weeks since Mothering Sunday (22 March) 2020.
(18 July 2021)

SUBSCRIBE TO OUR WEEKLY NEWSLETTER
(For reassurance on how we protect your personal data, see our Data privacy notice.)

Merton Priory PCC charity number is 1134253

Prayer for all times
Loving God,
source of healing and comfort,
fill us with your grace,
that the sick may be made whole,
that those who care for us may be strengthened,
that the anxious may be calmed,
and those most vulnerable be protected
in the power of the Spirit
in the faith of Jesus Christ our Lord.
MISSION STATEMENT
The Merton Priory Team Ministry is committed to promoting the Gospel of Jesus Christ according to the doctrines and practices of the Church of England. We are guided by our mission statement, agreed in 2011:

In Merton Priory Team Ministry we aim to be a community
Faithful to God
Sharing with those in need
Caring for one another